We Stay Educated About the Latest Refinishing Products & Techniques
Mastercraft offers many services and finishes that can save you hundreds, even thousands of dollars on your home, business, vacation or investment properties. New state of the art technologies are being introduced every day – and our industry is no different. New primers paints and finishes perform better every year. Knowledge and proper application of these products help restore, maintain and increase value and longevity in a variety of ways that many people are not even aware of. We pride ourselves on staying educated about this technology and bring that knowledge to our customers.
Tub & Tile Refinishing
We can make your old tiles or tub look brand new again! Old porcelain or glazed sinks and bathroom tile can all be refinished to restore their original beautiful shiny finishes. Even cracked bathroom tile can be repaired and refinished. The cost of removing and replacing a bathtub or existing tile from a wet can be incredibly messy and very expensive. We can refinish all of these items at a fraction of the cost of replacement. We have saved homeowners and commercial businesses thousands of dollars with our refinishing process. And we guarantee the finishes for the lifetime or we will redo it at no cost to our customer.
---
Aluminum Siding Refinishing
The original finishes on aluminum and vinyl siding tends to break down over time. This causes fading and loss of integrity resulting in a " chalky " powder that eventually washes off leaving the siding looking old and ruined. Many homeowners don't relaize that aluminum and vinyl siding can be refinished for a fraction of the cost of replacing it. Mastercraft Painting & Finishes uses a proven method for refinishing your home's siding that results in a brand new look that will last years. We can even change it to any color you wish. We also guarantee the finish against major failure and will refinish it for free if it does for any reason. Before you consider replacing your old siding, let us give you an estimate to refinish it and save you time and money.
---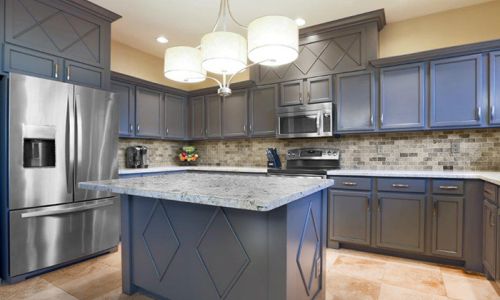 Kitchen Cabinet Refinishing
Refinishing your kitchen cabinets can result in a significant savings! No longer is the only option to change or replace the look of your cabinetry, to replace them. Refinishing existing kitchen and bathroom cabinets is now an industry standard. The process can be completed in just a few working day and the choices of finishes that are available are extensive. From standard single color painted finishes to wood grains and new exotic looks there are finishes to compliment and accentuate any existing interior design and decor. The quality of refinished canbinetry is amazing.
---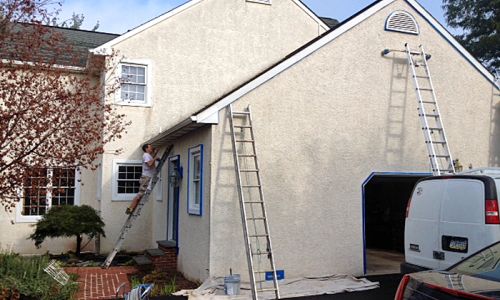 Insulating Paints & Additives
Mastercraft Painting & Finishes offers insulating ceramic paint and paint additive products which could reduce your heating and cooling bills by as much as 45%! Simply applying these products to the surfaces of your home is now an affordable, energy saving, insulation solution that will save you money and improve your comfort.