We Can Paint Just About Anything That Needs Painting!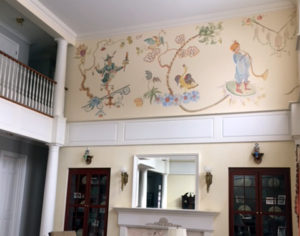 A professional paint job can make a world of difference to the appearance and curbside appeal of your home or business. At Mastercraft Painting & Finishes we provide a wide variety of home improvement and restoration services. Whether you have a specific project in mind or are still in the brainstorming phase, our team of painters and contractors has the experience and expertise to handle any job with precision and efficiency – and can offer knowledgeable advice on a wide variety of issues & concerns.
Honest Solutions At Fair & Competitive Prices
Mastercraft Painting & Finishes is a fully insured interior & exterior residential and commercial painting and restoration services company and has worked on houses of all types in and around the Philadelphia region as well as having performed extensive commercial painting services.
Mastercraft Painting & Finishes are professional painting contractors with an outstanding customer satisfaction and referral rating. That means our future is on display every day so please feel free to check our customer references.
INTERIOR SERVICES

Custom Interior Painting & Refinishing
Insulating Paints, Coatings & Paint Additives
EXTERIOR SERVICES

Hi-Performance Waterproof Exterior Coatings
Aluminum Siding Refinishing
OTHER SERVICES

Post-Fire Board-up & Winterization Services
Fire Restoration & Smoke Encapsulation
Sandblasting
Wood Staining
Utilization of High-Reach Equipment
We look forward to introducing you to quality, dedication, and integrity. We look forward to introducing you to Mastercraft Painting & Finishes –Your neighborhood GO-TO-GUYS in Montgomery & Bucks County, PA! Contact Mastercraft Pinting & Finishes online or call 267-496-5307 for a free estimate.