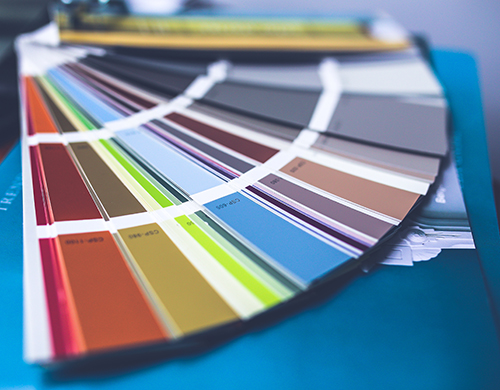 Advice from the Experts at Mastercraft Painting & Finishes
When it comes to selecting paint colors for your home, there's an entire rainbow to choose from. With so many options at your disposal, making the right choice can be a daunting task. Fortunately, learning how to choose a paint color that enhances your home doesn't have to be a complicated process once you understand some basic rules of color selection. This guide from the experts at Mastercraft Painting & Finishes will teach you how to confidently pick paint colors in addition to providing you with tips and tricks to help you make the best design choices for your home.
How to Choose the Right Paint Color for Your Home
Applying a fresh coat of paint to the interior or exterior of your home is a quick and cost-effective way to give new life to your space. Depending on the colors you choose, this simple change can also make your house more sellable if you plan to put it on the market in the future. Here are a few things to keep in mind when selecting paint colour:
Find Inspiration: Inspiration is everywhere if you know where to look. While catalogs and magazines have always been a staple for decorating inspiration, try looking to nature or your favourite piece of artwork for more paint color ideas. When you visit the paint store, take a photo or reference material with you so you can choose the paint strips that are the closest match, to view at home.
Understand Color Theory: While it's not necessary to be an expert in color theory, understanding some basic ideas can make it easier when it's time to pick a colour for your home. For instance, keep in mind the color wheel. Combining primary colors will give you a secondary color, colors next to each other will allow one shade to stand out more and colors chosen from the opposite side of the wheel are highly complementary and will play well off each other.
Pick a Color Scheme: Considering your furniture and décor can help you pick the right color scheme for any room in your home. A color scheme can be as simple or as ambitious as you want. To start, choose three colours and then select your paint color based on these colours. For a monochromatic color scheme, stick to colors that fall within the same color family. For a more ambitious color scheme, stick to primary colors.

Test Paint Colors: One of the most important rules to keep in mind is to sample your paint colors before committing to one. When you are committing time and money to your project, you want to make sure you get it right the first time. In addition to getting the best idea of what the paint color will look like in your home, you can also minimize waste by calculating how much paint you'll need, ahead of time.
Select Your Finish: Once you have determined what color you want for your home, you will need to decide on the finish you want. Paint finish refers to how much light the surface will reflect, making the room brighter or cozier, depending on which option you choose. These options include matte, eggshell, satin, semi-gloss and high-gloss paint finishes.
Redoing the look of your house does not require you to spend a lot of money. With a little paint and a lot of creativity, you can easily transform your space into the home of your dreams. At Mastercraft Painting & Finishes, we offer you a variety of interior and exterior painting and restoration services to keep your house looking brand new. Our professional painters can help you enhance the appearance of any room in addition to the curb appeal of your home or workplace. Whether you are in the initial stages of planning your remodel or have a specific project in mind, we have the skills and experience to handle any job. As a fully insured painting and restoration services company, we offer fair and competitive pricing to all our clients, and are committed to creating beautiful spaces for residents in the Philadelphia region and surrounding areas.
For reliable, high-quality and affordable refinishing and repainting services, rely on the professionals at Mastercraft Painting and Finishes. Call 267-496-5307 or contact us online to get your free estimate.