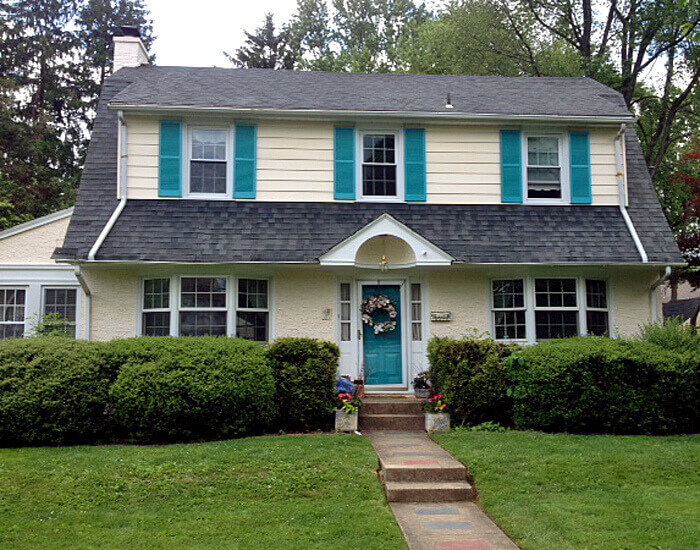 Expert Advice from Your Trusted Professional Painters in Philadelphia
Every street has that one house that looks a little sad, worn, and neglected. With peeling exterior paint or faded siding, this house will stand out for all the wrong reasons. Don't let your house be the one! Whether it is wood, vinyl, or aluminum siding, there will come a time when you need to refresh the exteriors to maintain your home's value and curb appeal. The decision to replace or refinish the siding will depend on a number of factors, including its existing condition, valid warranties, and your renovation goals and budget. The experts at Mastercraft Painting and Finishes offer some suggestions in this context.
Replacing versus Re-facing Siding: Know What to Choose When
While planning a siding makeover, check on these 3 important things:
Siding Warranty: Are there any valid warranties for your home's siding? Read the fine print as some manufacturers void the warranty if you alter the siding in any manner, including repaint it.
Siding Condition: Have you thoroughly inspected the siding for cracks, damage, or loose pieces? If you choose to repaint and subsequently need a few pieces to be replaced, manufacturers may not be able to give you perfectly color-matched pieces.
Insulation Upgrade: Do your renovation goals focus on energy-saving enhancements? Replacing your siding is an opportunity to add an underlay that can fortify the external insulation of your home.
Siding replacement is not cheap. A 2,000-square feet, two-story home will require approximately $2,000 to $16,000 for replacing and installing vinyl siding, $3,000 to $14,000 for aluminum siding, and $16,000 to $24,000 for wood siding. Instead, refinishing the siding could give your home exteriors a prompt, hassle-free facelift without denting your budget.
Depending on the type of siding, here are some aspects to consider:
Wood Siding: Although wood siding adds warmth and character to any house, constant exposure to the elements eventually causes the paint or stain to fade or peel. If the wood quality is good, and there is no rot or pest damage, go for a repainting or re-staining service, instead of spending on replacement.
Aluminum Siding: A maintenance-free alternative to wood, aluminum siding lasts for 20+ years. However, the paint may start fading much sooner, and with age, the material itself may start pitting or chalking. A professional painting and refinishing expert will not just bring your aluminum siding back to life, but make it look as good as new. It takes years of experience in applying the right types of products and paints, along with access to proper tools and techniques.
Vinyl Siding: Upping the low-cost, low-maintenance and high-durability quotient of aluminum, vinyl siding is one of the most commonly used materials in American homes. However, years of exposure to the elements can cause dirt build-up, fading, and chalking, which in turn diminishes the overall appearance of your home. In the early years, repainting vinyl siding was not an option, but advances in paint products and painting technology in the last decade have now made it possible. You can choose from a range of light or dark shades within a vast color palette, and give your home exterior a stylish and cost-effective makeover.
With the right prep, proper techniques, and appropriate choice of products, refinishing and repainting the siding will increase its lifespan by 15 to 20 years, while saving you thousands of dollars in replacement costs.
At Mastercraft Painting and Finishes, our licensed, qualified and safety-trained painters specialize in a range of exterior painting and refinishing services. Knowledge of the latest products and techniques and access to high-reach equipment allows us to work quickly and efficiently, with minimal disruption to your routine. Our expert crew will:
Pressure wash

the siding to clean and prep for refinishing

Repair and fix any minor damages, cracks or loose pieces

Use specialty tools, such as spray guns for smooth, clean application of primer and paints
We take added precautions, such as covering the plants or shrubs around the foundation to prevent any potential chemical damage from the detergents, bleaches or anti-mildew solutions we use. Our crew is bonded and insured, which means, we cover any damages or accidents. We also provide thorough post-job clean-ups and lifetime guarantees on our refinishing services. In addition to vinyl, wood and aluminum, we take on repairs and refinishing for stucco siding. All our exterior refinishing services aim to enhance the value, appeal and durability of your home.
For reliable, high-quality exterior refinishing and repainting services, rely on the professionals at Mastercraft Painting and Finishes. Call 267-496-5307 or contact us online to get a free estimate.