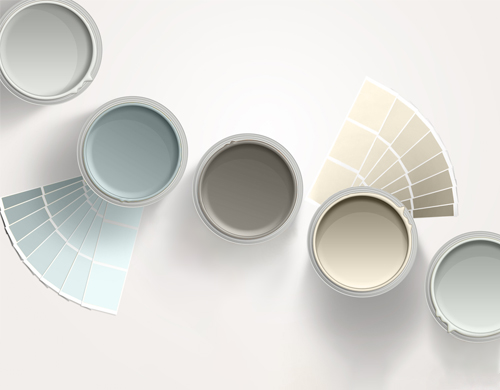 Give Your Home the Best Makeover… with a Little Help from Your Phone
What if you could use a device like your smartphone to simply scan a paint color to get matching results? You can! This technology comes in handy when you're planning a painting project but are unsure what shade of paint you need. Did you mix a color previously and can't remember which shades you used? Did you purchase an older home and want to refresh the faded paint in the same color? No matter what the case may be, the goal is the same – finding the best shades so that you are pleased with the outcome.
Needless to say, if it's smart technology, there's a science behind it. Did you know that color is made up of six different wavelengths?
X-rays
Ultraviolet
Visible light
Infrared
Microwaves
Radiowaves
New technology can analyze these different wavelengths in order to process exact colors and shades of color. This is important because there are some components we cannot see with the naked eye; therefore, it becomes much more complex than describing a color simply as red, blue, yellow, etc. To be as precise as possible, color matching technology is your best bet, and you can expect fairly accurate results.
Color Matching Technology is Cost Effective
Most applications are inexpensive and easy to use
A color matching device may be a small cost, but the good news is that you can choose to keep it and use it repeatedly for future projects. Each gadget ranges in price so it's good to shop around before making a decision. Once you have a color matching device, you can follow the manual and download the appropriate app to your smartphone.
Some devices are less than $100, but an inexpensive device records a very small area; therefore, it may not be the most accurate compared to other options. The larger the space you're able to scan, the better chance of getting the perfect shade you desire.
The apps that pair with each gadget are typically free of charge too.
Are You Ready to Start Color Matching with Technology?
Efficiency and accuracy are major goals in every painting project whether it's for your office, your home, or at another job site. There are colors and shades in mind and getting as close as possible to that exact vision is ideal. Technology offers consumers many opportunities to complete a project the way we want, how we want. Color matching technology allows just that. You can potentially save time and money in the long run too. Just think about how many trips you'll save back and forth to the store for testing different shades!
For professional painting services, including top-notch customer service and color matching, reach out to MasterCraft at (267) 496-5307 or contact us online to discuss your requirements. We are always here to provide assistance to our customers with all projects.