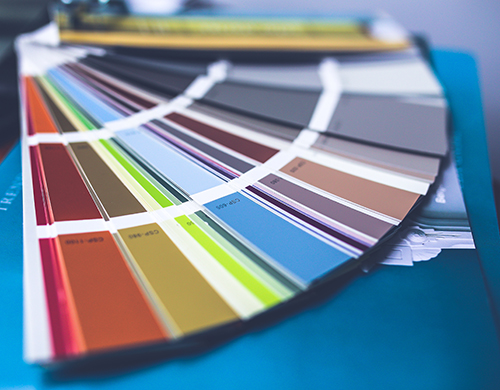 In the color world, the start of this year echoes our emotions, dreams, and aspirations, bringing last year's cool outdoor charm into our warm interiors. A pop of vibrant red or orange can depict drama. Cheerful pinkish hues can make us feel like rejoicing. From lush greens to different hues of reds, the year 2023 promises romance amidst soft muted tones of bluish greys that spell understated elegance. Let's take a peek into the color trends for 2023.
Colors of the Season
Saturated Colors – Saturated blues and greens have found their place back again in our homes. They are also perfect colors for our south-facing walls and blend in with the sunlight coming through the windows. The cooler color-wheel spectrum includes bluish-grey tones giving it a soft cloud color.
Fresh and Airy Colors – For darker rooms or rooms that don't get much sunlight, light colors like off-white, or beige, blue, and light cream, with yellowish or pink undertones can do wonders to brighten up the space. Do it right, and you will love spending long hours in a room with just the perfect choice of color.
Blending Outdoors with the Indoors – Apart from yellows, blues, and pinks, another favorite color this season is sage green, paying homage to the outdoors. Paint your dining room, kitchen, or your living room space with the right shades of green and grey, and you are sure to get a vibrant result.
Creating a Dramatic Effect – Colors can help create a focal point if chosen wisely. From crimson red tinged with purple undertones, chocolatey-brown, chocolatey-purple, plum red, and greyish black, to earthy warm colors like deep tan, grey-brown taupe, smokey pink, and greyish-rouge pink, accent walls can speak volumes if done in the right shade.
Having Fun with Yellow – From mustard to muted golden, yellow and its hues are in vogue this season. Its bright and sunny disposition helps elevate a room's look and your spirits!
Add the Right Color to Your Walls
With the many color options available this season, there's sure to be one that will meet your fancy. If you've been itching to redo your wall color, now is as good a time as any. Simply choose your favorite color from all the exciting options trending this season and create a whole new space.
Contact our painting experts when you choose the shade that appeals to you for your wall and/or ceiling. Then, see how your room is magically transformed with just a few coats of paint.
Hire the services of Mastercraft Painting professionals to paint your Philadelphia home right. Call us at 267-496-5307 or contact us online to discuss your home's painting and refinishing needs and get a FREE estimate.