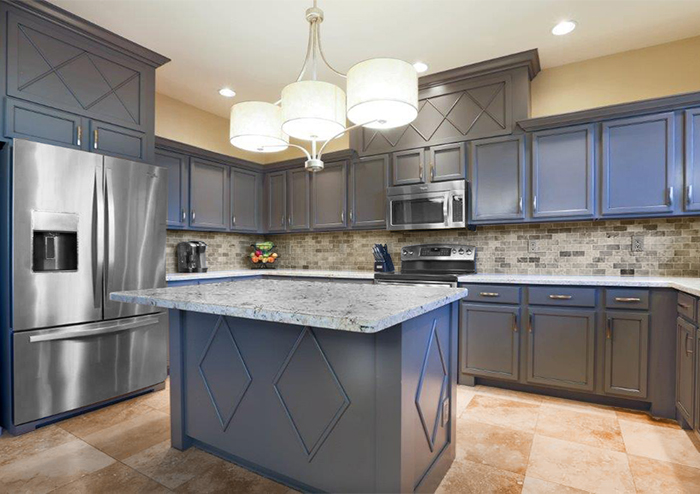 Cabinet Refinishing and Painting Tips from Professional Painters in Philadelphia
From cooking meals and sharing daily banter with the family, to hosting and entertaining guests, your kitchen is one of the most bustling areas within your home. You want this space to exude an energetic and cheerful vibe. Whether it is changing over to modern appliances, getting spotless cabinetry or new countertops, or trying a fresh coat of paint, every small change that you make in your kitchen will lead to a big impact on its overall look and ambience.
However, any renovation in the kitchen tends to be messy and time consuming. Moreover, DIY projects come with their own set of challenges. Based on your time availability, budget and specific needs, look at some, or all of these projects that can potentially transform the heart of your home.
Projects that Will Give Your Kitchen a Facelift
Refinish Cabinetry: Give your tired, old cabinets a new look through several small enhancements, instead of replacing them entirely.

Use stain or paint to change the color, texture and finishing. Replace the existing hardware such as knobs and hinges with more contemporary designs. Replace the wooden doors with glass, for an open, see-through effect, or replace a couple of cabinets with open shelves for a chic, cottage-style look. Add character and charm by incorporating crown moulding to the top of your existing cabinets, or consider under cabinet lighting for a bright, cheerful ambience.

Change the Backsplash and Countertops: Replace your boring, dull backsplash with modern, glazed tiles. Evaluate the state of your current countertops and check if you want to replace them with a material that is more suited to your lifestyle and budget. Choose from thousands of designs and colors in quartz, granite, laminate, solid surfaces, marble and other contemporary materials.

Add Functionality: Your kitchen makeover project is not just about letting your cooking space shine, but also about making it more functional and practical for your family. If you have sufficient space to modify your current layout, consider installing a permanent or mobile island that can double up as an additional workspace, storage space as well as a breakfast bar. A kitchen renovation is also a good time to upgrade to modern, energy efficient appliances that look good and work smart.

Paint the Walls: One of the easiest ways to transform your cooking area is through a paint job. If you have any budgetary or time constraints, simply skip all the above projects and just add a fresh coat of paint to the walls. You will be amazed at how just a change in the wall colors can give your kitchen a gleaming new avatar.
Get your dream kitchen without toiling away on lengthy DIY projects. Rely on the experienced and trained professionals at Mastercraft Painting and Finishes for a variety of jobs such as cabinet refinishing, painting, marble, stone or ceramic tile installation, wood staining, sand blasting and general carpentry services. Our insured crew is trained to work safely, without inconveniencing you or your family members during the course of the project. We promise clean, professional finishes and a thorough post-job cleanup to ensure that your renovation experience is completely hassle-free.
Find out more about our wide range of interior painting services, as well as other projects we can take on to get your kitchen looking its best. Reach us at 267-496-5307 for a free estimate or contact us online.