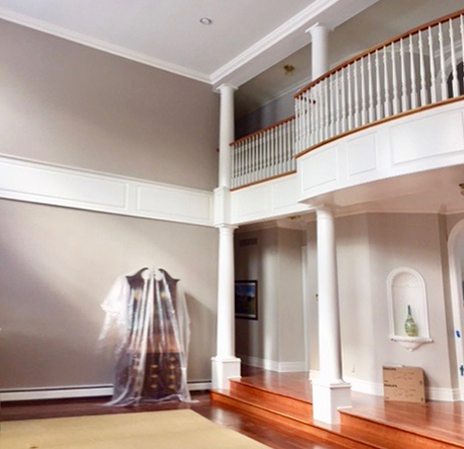 Tips from Your Trusted Exterior Painters in Philadelphia
Spring is finally here and that means it's time to update your home's curb appeal with a fresh makeover. After all, spring cleaning should not only take place indoors, rather, it should be extended to the exterior of your home, especially after it has been exposed to those long, cold winter months. Better yet, updating a tired façade and turning your home into a true showstopper doesn't require you to tackle any major projects either. If you're wondering where to start or what type of changes will make the biggest impact, read on to find out more.
5 Simple and Inexpensive Exterior Upgrade Solutions for Spring
Fixing up your home after a long winter can be done easily and affordably. If you want to improve the visual aesthetic of your home and increase its overall value, here are a few fresh and effective exterior upgrade solutions you may want to consider taking on this spring:
Tidy Up: Take a walk around your property to assess which jobs needs immediate attention and what can be taken care of later. As you do this, gather up any fallen branches and debris, in addition to removing any plants that didn't survive the winter. Simply tidying up your landscape can help to significantly improve the appearance of your home's exterior, without you having to embark on any major renovating projects.

Garden: After removing dead weeds and clearing away all other debris, it's time to focus on your garden. If you have existing perennials, help them grow new buds by trimming them. Now is also the time to add some fresh soil to your garden, take stock of the plants that you currently have and consider what you would like to add to bring color and life to your landscape.

Clean Your Siding: If your home has vinyl siding, chances are it will look a little rough after the winter season. Rinse off the siding for a brand-new appearance but avoid using a power washer as the siding can be somewhat pliable. In this case, water may be able to get in behind it, causing hidden problems down the line. If your siding needs more than a rinse, it's best to leave this job to the professionals who can clean your vinyl siding using safe and specialized equipment.

Wash Your Windows: There is nothing that says spring quite like washing your exterior windows for a sparkling clean look. Even if you clean the interior side of your windows, you are essentially only completing half the task, as it is important to remove the dirt and grime of winter on the outside. Use a power washer or hose with a power washer attachment to make sure your windows will sparkle for spring.

Refresh Your Exterior Paint: Freshening up your exterior paint is an easy way to make a big impact for an affordable price. Keep your color palette simple so that it remains timeless and won't require another paint job next spring. Simplicity can help bring out the charm of your home by letting its other features standout. When considering paint colours, stick with a three-color palette that includes siding, trim and accent colours.
Maintaining your curb appeal all year round is extremely important. Whether you do it for personal enjoyment and/or to increase the value of your property, spring is the perfect time to put your best foot forward and invest in your home's exterior with a little help from the experts at Mastercraft Painting & Finishes. If you live in the Philadelphia area and are thinking about tackling a large-scale project, reach out to our professionals who can provide you with reliable and affordable custom exterior painting and refinishing services. We have access to all the latest products and technologies which allow us to complete every job, no matter how big or small, quickly and with greater ease, while also ensuring lasting results.
Save time and money by hiring our professional painters to give your Philadelphia home a new look for spring. Contact Mastercraft Painting and Finishes for custom exterior painting and refinishing in addition to our other services. Call us at 267-496-5307 or contact us online to book an assessment and get a FREE estimate for your home's exterior painting.