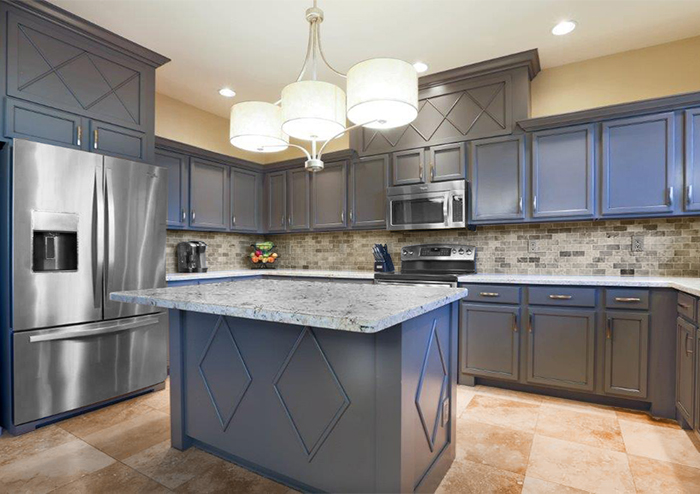 Your Professional Philadelphia Painters Discuss the Smarter Alternative to Complete Replacement
Whether you want to spruce up a tired-looking kitchen, or you are looking for dramatic changes that bring your cook space right on-trend, a complete demolition or cabinet replacement are not your only options. You may find it hard to believe, but even a small change in the colors, texture or hardware of the units can create a huge impact on your kitchen's overall look and character. In fact, the only time you may really have to consider a full replacement is if your woodwork is very old, broken, or worn and chipped beyond repair. For all other times, consider the smart and cost-effective alternative of cabinet refinishing and painting.
If you are handy around the house and want to take on this project by yourself, be prepared to put in several hours of work, toil away on the weekends, and create makeshift arrangements for your daily cooking needs. The truth is that DIY kitchen projects can be messy and time consuming. For a quick turnaround, quality finish and hassle-free experience, rely on the trained and experienced professionals at Mastercraft Painting and Finishes.
Freshen up Your Kitchen with Professional Cabinet Refinishing and Painting
When you hire our services, you will enjoy a spanking new kitchen in a matter of days:
Free Consultation and Quote: We will evaluate the state of your existing cabinets and provide a detailed scope of the project, along with the cost and completion timeline.
Flexible and Extensive Options: Depending on your needs, timeline and budget, you may choose to have the cabinets treated only externally, or from the inside out. We offer simple makeovers such as a single-color paint, as well as other options, including staining, glazing and burnishing. Select from a wide range of finishes including sleek and chic, vintage and distressed, polished and glossy, grainy and exotic, and several others.

For only-external touch-up jobs, our skilled crew can address the cabinet surfaces, edges, sides, undersides and trims without removing them. Since our painters will spray paint them in-place, you can enjoy stunning results without having to empty out your cabinets!

For jobs that require refinishing the entire cabinetry, we create a temporary booth in your basement or garage for sanding, degreasing, priming and painting. If such a space is not available on-site, our crew may bring the doors to our workshop and treat the cabinet boxes in place, or complete the entire project off-site and refit the units.

Professional Touch: The experienced painters at Mastercraft will give your dull, tired cabinets a complete face lift. With our extensive knowledge about the latest products and techniques, quality workmanship, amazing turnaround time and thorough post-job cleanup, you can refresh your kitchen with minimal downtime.
Comprehensive Services: We offer refinishing and painting services for not only kitchens, but also bathroom cabinets, tubs and tiles. Moreover, we are experts in both, interior and exterior painting projects, which means you can count on us for a wide range of home improvement requirements, instead of involving multiple contractors. We also offer general carpentry services, such as changing hardware for your cabinetry or adding under cabinet lighting.
Breathe new life into your kitchen with the reliable team at Mastercraft Painting & Finishes. We work with you closely to understand and align with your tastes and budget. Enjoy exceptional service, diligent job guarantees and beautiful finishing touches at a fraction of the cost of replacing your entire cabinetry.
Looking for a kitchen makeover or other home improvement services in and around the Philadelphia area? Call us at 267-496-5307 or contact us online and request a FREE estimate.