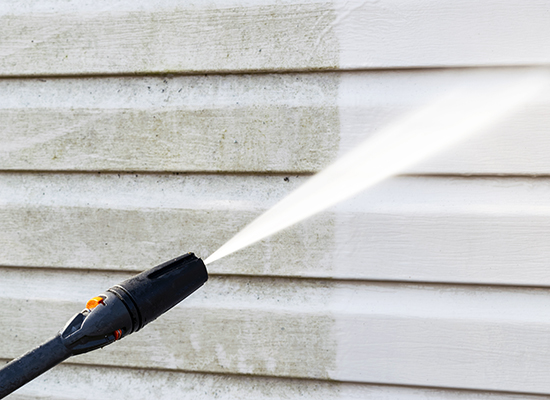 Advice from our Professional Painters in Philadelphia
If you are planning on doing a painting project and want to get the best-looking results, one of the most important factors to consider is how well you prepare the surface where you intend to paint. Two of the most common options to prepare your surfaces for paint are sandblasting and power washing. However, before exploring the pros and cons of each, you must first determine whether both are viable options for your intended application. A simple way to verify this is to look at your paint's technical data sheet to identify its surface preparation standard. At Mastercraft Painting & Finishes, our experts can help you choose the right surface finishing method to ensure you complete your project with great success.
The Benefits of Sandblasting vs. Power Washing
Surface preparation will affect the quality, performance and longevity of your paint job. To achieve the best results, the surface must be cleared of dust, dirt and other debris to ensure proper coating adhesion. Read on to learn more about the two most common surface preparation techniques used by painters today:
Sandblasting
Sandblasting uses a pressurized stream of abrasive material to prepare a surface. While it is more commonly associated with cleaning metal, it can also be used on a variety of other surfaces. There are two types of sandblasting:
Wet Sandblasting: Water and mixed media is used together to clear a surface. It acts as a hybrid between power washing and straight sandblasting. This method is commonly used if you want to avoid the dust cloud that comes with dry sandblasting.

Dry Sandblasting: Instead of water, this method of surface preparation combines air and abrasive material to clear a surface.
Both of these techniques offer the following benefits:
Provides an easier and better way to clean a variety of surfaces.

From light cleaning to deep cutting surfaces, the degree of sandblasting can be adjusted according to your needs.

It is an extremely powerful technique that can significantly reduce the amount of time it takes to prepare a surface from days to just hours.
Power Washing
Power washing provides a safe, efficient, economic and eco-friendly way to clean a variety of surfaces for painting. However, if the technique is performed improperly, it may lead to excessive corrosion; so it's important to understand how to handle the equipment.
Power washing provides the following benefits:
Allows you to clean and prepare a variety of exterior surfaces without the use of chemicals or the risk of releasing dust clouds into the air.

There is no residue left behind.

Power washing equipment allows you to adjust the pressure according to your application needs.

Surfaces are left clean, chemical-free and ready for use after drying.
Different painting projects come with unique specifications that will help you determine whether sandblasting or power washing is most appropriate for your application. Mastercraft Painting & Finishes is committed to bringing your home or business into the 21st century by providing simple but effective upgrades to completely transform your space. Our fully licensed, bonded and insured team of experts understand how much of a difference a new paint job can make to the appearance of your residential or commercial property. That's why we specialize in providing painting and finishing services that will not only add charm and diminish the signs of ageing but we also offer these solutions at a fair and competitive price. If you live in and around the greater Philadelphia region and are looking for efficient and reliable painting and restoration services, contact us today.
For reliable, high-quality and affordable repainting and refinishing services, contact the professionals at Mastercraft Painting and Finishes. Call 267-496-5307 or contact us online to get your free estimate.