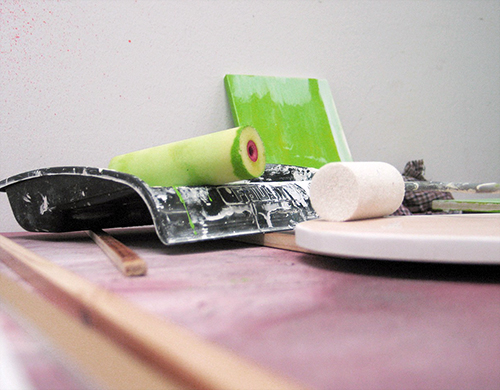 Your Professional Philadelphia Painters Share Tips and Tricks
Whether your walls are tired and distressed, or the shade of paint is outdated, or you simply need a refreshing change, any time is a good time to change the color of the walls and give your home or office a stunning makeover. While you fight the 'pick your favorite shade' battle with your family and friends, have you also thought about adding a unique texture or dimension to the walls? You can try different painting techniques along with selecting new shades.
Top 5 Wall Painting Techniques to Create a Unique Look
Painting your walls is one of the easiest ways to give your room a gorgeous makeover, without compromising on your square footage. In fact, if you select the right shade and painting technique, you may be able to make the room look even more spacious and airy. Here are some popular painting techniques to create distinctive spaces.
Color Wash: After applying a relatively lighter shade of a base layer, use a damp cloth and rub the wall in circular motions with a slightly darker top shade. This subtle blend of colors will have a fantastic, swirly effect and lend a dynamic look, especially to a feature wall.
Sponging: A fun DIY project, sponging is one of the simplest ways to add textural elements to your space. First apply a base layer in the shade of your choice and then use a sponge to dab the walls in a strikingly different shade. Make this an exciting weekend project, where you can involve the entire family.
Rag Rolling: Paint the wall in your preferred base shade and then create an abstract pattern by rolling a cloth rag up and down the wet paint. While this technique adds a lot of texture and depth, its end result is subtle enough to not overpower your overall design.
Stripes, Polka Dots or Checkerboard: Timeless and elegant, stripes create a bold, striking visual, especially for a feature wall. Whether you choose a stark black and white combination, or just play with two shades of the same color, this technique will add visual intrigue that draws the eyes to your special wall. You can achieve the same results with polka dots or a checkerboard pattern to create a bold contrast, or a slightly whimsical look, especially in a child's room.
Stenciling: Wall stenciling is an interesting way to add a tinge of sophistication and excitement to your space. This is a simple technique that DIY enthusiasts can take on quite easily. If you are looking for some inspiration, you can find plenty of stenciling designs on the internet.
When it comes to enhancing your wall paint, the creative possibilities are limitless. At Mastercraft Painting and Finishes, our professional painters keep abreast of new painting techniques and on-trend designs and shades. No matter what your preferences or style choices, our experienced team can deliver on your requirements and help you transform your space. With a licensed and insured crew, quality finishes, and on-time completion record, we are confident that you will enjoy a hassle-free painting experience. We can also refresh or refinish your cabinets and touch up any items that need painting.
For reliable and professional home painting services in and around the Philadelphia area, call us at 267-496-5307. You can also reach us online. Feel free to request a free estimate for your interior painting or refinishing projects.