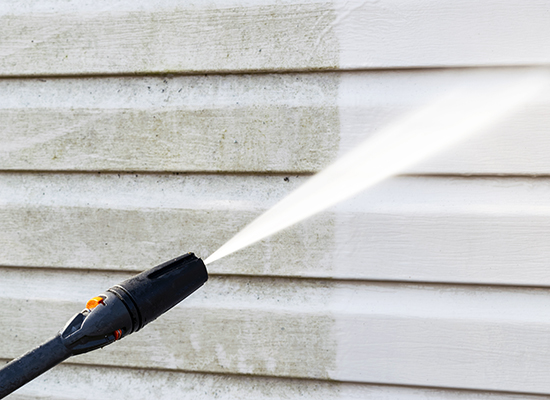 Your Trusted Philadelphia Painters Discuss its Many Benefits
Tired of looking at the unsightly, grease stains on your driveway? Has the siding on your home accumulated dirt and grime to become a breeding ground for bugs and spiders? Planning backyard barbecues this summer, but embarrassed by your dull, tired deck? No matter which element of your home's exterior needs a facelift, power washing may be an efficient way to keep your property looking great at all times.
Power washing involves the use of specialized equipment for blasting water at controlled pressure and temperature in order to clean stains and dirt from hard surfaces. The experts at Mastercraft Painting and Finishes explain the benefits of power washing, and why you should hire professionals to do the job.
Restore the Beauty of your Home's Exterior through Power Washing
Whether it is a manicured yard, an attractive fence, a stain-free driveway, or shiny doors and windows, every aspect of your home's attractive exterior contributes to its value and curb appeal. It is no surprise that a clean, freshly-painted, or well-maintained home will catch the eye of passers-by, neighbors, visitors and potential buyers. While you may repaint the exterior every few years, why not consider a half-yearly or annual professional power washing service to keep your property looking like new.
With periodic power washing, you can:
Reduce drainage issues: Keep the gutters clear of dirt and debris
Enhance safety: Clear oil, grease, salt stains and moss from driveways and walkways
Keep unwanted visitors at bay: Get rid of grime, cobwebs and bug nests from the siding and exterior walls of the home
Enjoy a freshly painted appearance without painting: Blast away the dirt and dust to spruce up dull surfaces, such as decks and patios
Achieve a spotless, new look: Clean the doors and windows to restore their shine and appeal
Although freshening up your property with a power washer may seem like an easy project, avoid the temptation of a Do-It-Yourself (DIY) approach.
Here are key reasons why you should hire the services of professional power washers:
Safety: Everything you read about power washing may seem deceptively simple, but don't put yourself or your property at risk! Handling heavy duty pressure washing equipment requires technical skills and experience. Without the right safety training and knowledge, you may end up injuring yourself or damaging your home's exterior.
Know-how: While pressure washing can give various elements in your property a fresh, new look, it is important to know how much pressure you can apply to each type of surface. For example, a low-pressure wash may not be effective for removing deep stains from a concrete driveway but will be sufficient and safe for clearing dirt off brick surfaces, wooden walls or vinyl siding. For the best results, leave the job in the hands of experts.
Time Saving: A professional crew will be in and out of your premises in no time. Equipped with proper training in handling power washing equipment, our team can complete the job with greater speed and efficiency than if you were to do it yourself.
For quick, reliable and affordable power washing services, in and around Philadelphia, hire Mastercraft Painting and Finishes. To know more about our range of painting and refinishing services, call 267-496-5307 or contact us online to request a free quote for your project.