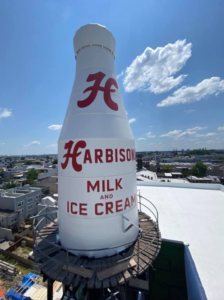 Today I wanted to share with you one of the latest and more interesting projects that MasterCraft is currently working on in the Philadelphia area. The building you see in the video, 2041 Coral Street in the Kensington section of Philadelphia, was once the famous Harbison's Dairy Factory. Thomas Harbison operated his dairy empire here in the late 1800's until the 1960's when the building was sold.
Today, this building is undergoing a 100% renovation. New owners, Pop Promos, and the design team from SgRA along with general contractor City Central Construction will transform the property into a brand new living facility. When completed, this building will host 78 new loft style apartment units, boutique fitness center, coffee shop, trendy offices and a commercial event space.
But there is one distinct characteristic that sets this property apart from any another building in the entire city of Philadelphia. The one and only Harbison's Milk Bottle Water Tower. This amazing and iconic structure was erected in 1914 and is a truly beloved piece of Philadelphia history – a living embodiment of the working-class character of this great city. So much so, that the city of Philadelphia gave it official historical designation and added it to the city's list of historical sites in in 2018.
The structure, from its foundation and structural supports to the lip of the milk bottle itself, rises over 120 feet to meet the surrounding city skyline. Through our process of high reach access, water blasting, rust conversion, priming and finish painting, we have restored this structure back to its original exterior finish – complete with the original text and graphics that adorned this turn of the century landmark over 100 years ago.
Please take a moment to view the video for a better look at this exciting project…
Refurbishment of Harbison's Milk Bottle MasterCraft Painting