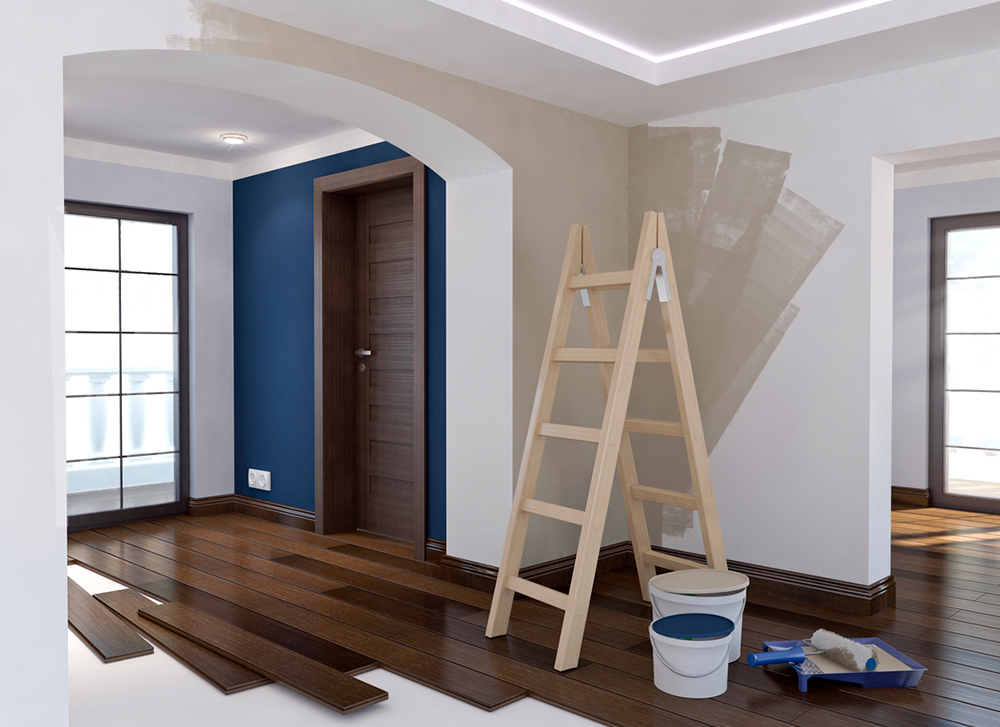 Changing up your space in your home or office
The holidays bring joy and warmth, but sometimes a bit of chaos also. If you're ready to take on the New Year like we are, then get ready to upgrade your space and we'll deliver exactly what you ordered!
Here are some ways to upgrade your home in 2022.
Accent walls help make a space appear larger and also add style. A great example is a reading nook or a breakfast station. Accent walls can separate rooms as well if you have a more open floor plan.

Color choice is very important. This allows your personality and flair to shine while keeping up with trends – if you prefer that. In the market, keeping up with trends helps increase value too. Do you prefer whites, gray, and beige or do you favor more vibrance? The good thing about lighter and brighter colors is that they tend to be very easy to match with, so décor options are endless!
There are many more ways to upgrade your rooms and complete a project that makes you excited for a fresh start.
Here are some ways to upgrade your office space this year.
Accent walls are great here too! Painting the wall behind your desk can add a professional-looking touch that appears welcoming. With many of us working from home or remotely these days, this would look good on video calls. Use your office furniture to help set the vibe. If you have darker furniture, then it might be a good idea to go lighter on the paint colors for some added contrast – and vice versa.

Paint the whole office! There's nothing like a fresh start with a fresh coat of paint. If you love your office space already, but are looking to upgrade, consider a different shade instead.
There are many simple ways to upgrade your office space for the New Year. What are your goals? What will keep your motivation and inspiration for success going?
Keep it simple, or add some fun
When you think back on the joys of the recent holiday season, you may be thinking about family, friends, gathering, cooking, baking, crafts, hot beverages, favorite drinks, and the like. You can use all of those as inspiration for paint choices in your home or office! Here are some fun examples.
Is your favorite drink a Moscow Mule? Try out some copper tones or maybe a deep red to resemble the garnishes. Not a drinker? No problem! Hot cocoa has its own inspiration. Browns and whites are easy to work with and have a ton of versatility. Ever considered a darker ceiling color with lighter walls? Think chocolate covered marshmallows!
As for gatherings, you want to create a space that is both welcoming, and enjoyable. If you like to host and entertain, think about what colors scream just that. Don't forget about those accent walls. They make great spaces for a mini bar, family room, or guest room.
Marketing is a huge part of any successful business. Whether you have a home office or other office, show off your space! If you plan to take photos to add to a portfolio or a social media page, it's important to make sure your office is in tip-top shape. This might include a fresh coat of paint or choosing a new color to advertise something like "New Office, New Year!" It's also a wonderful conversation starter!
Expenses to Consider When Painting Your Home or Office
It's no secret that the winter time tends to have lower demand for home and office improvement projects. This is the time to make your list and get everything you may need for your next home or office remodeling project. Selecting your paint colors for the New Year is the first step. Once you envision and plan the look you want to bring into 2022, it's time to order or contact a painting professional for assistance.
If you are ready to start your New Year painting project in your home or office, MasterCraft has everything you need. Give us a call today at (267) 496-5307 to discuss your requirements. We're ready to help complete the project that will jumpstart your New Year