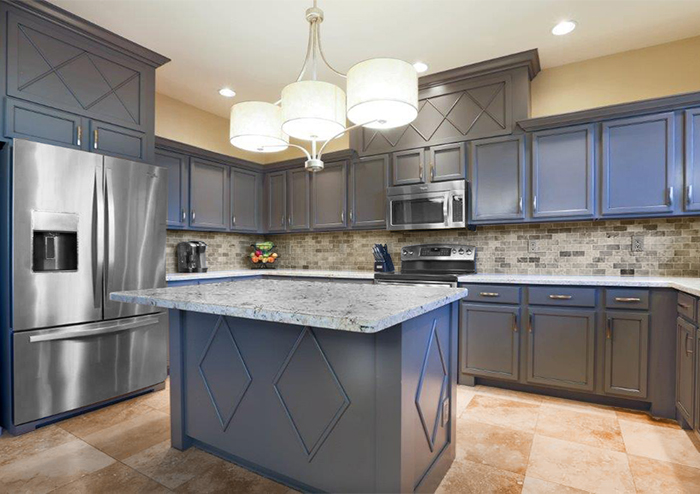 Eager to give your kitchen a much-needed makeover? While there are several remodeling ideas available, painting and refinishing your cabinets are among the most effective ways to update the heart of your home and give it a fresh new look. If you are curious about what painting and refinishing your kitchen cabinets entails, you've come to the right place.
To help you determine if this type of remodeling project is right for your kitchen, let's take a closer look at some of the pros and cons of kitchen cabinet painting and refinishing:
Pros
Clean Aesthetic: Painting your cabinets creates a crisp overall look by leaving you with a smooth and flawless finish. This is especially appealing for homeowners who don't care for the character marks that often show through stained wood cabinetry.

Customize Your Kitchen: If you want to incorporate more color into your kitchen, painted cabinetry is the perfect way to go. Paint sticks really well to the surface of wood as opposed to a stain that can often get lost in the mix of wood grains and knots.

Cheaper than Replacing: Working with a professional cabinet refinishing service is a highly cost-effective way to upgrade the look of your cabinetry. It costs far less than refacing or replacing your cabinets, in addition to ensuring you don't end up with visible flaws if you were to take on the project yourself.
Cons
Creates Wood Dust: Refinishing wood cabinets often involves sanding away the existing layer of finish, as well as part of the wood surface itself. This has the potential to produce airborne dust which can get messy and be harmful if inhaled. Always ensure good ventilation or leave the area while the professionals take over.

Not Effective for All Cabinets: Deciding whether or not to paint or replace your kitchen cabinets strongly depends on their current state. If your cabinets are warped or heavily damaged in any way, a fresh coat of paint may not be the right solution.

Long Wait Time: Cabinets can be refinished outside of your home, but it is likely that a refinishing team will have to spend at least a few days inside the home to properly execute the job. You may also have to wait at least 1-2 days for the finishing to cure before you can use your cabinets again.
Since cabinets can take up a majority of your kitchen's visual square footage, it's best to avoid a DIY painting and refinishing job and instead, let the professionals at Mastercraft Painting & Finishes handle the project for you. When you work with our experts, you can enjoy all the pros that come along with this process. Our goal is to provide you with quick, easy, and cost-effective solutions so you can achieve the kitchen of your dreams.
For an efficient, affordable, and reliable kitchen makeover, count on the kitchen cabinet painting services by Mastercraft Painting and Finishes. Call 267-496-5307 to speak to one of our experts or contact us online to request a free estimate.