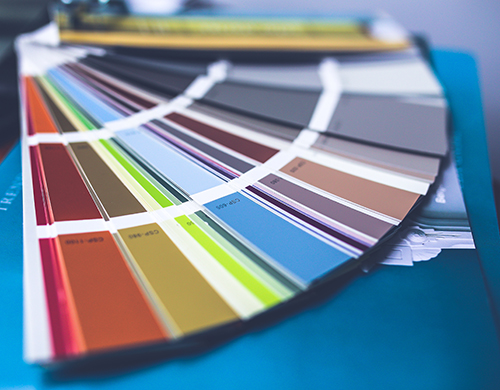 A Color Consultation from Your Professional Painters in Philadelphia
When it comes to selecting paint colors for your home, consider joining the dark side. Choosing a dark paint color can completely change how a room looks and feels. Typically, dark colours bring warmth and richness to the room, creating a cozy atmosphere which is especially inviting as the seasons change and the weather gets colder. However, just because a dark color looks good on a paint swatch, that doesn't mean it'll be right for your home. Careful thought and planning are required and it's important to consider the pros and cons before making your final dark paint color selection.
Dark Paint Colors for Your Home—Good Choice, Or Not?
Deciding on an interior paint color is no easy task, especially when there are so many color options available to choose from. While you should absolutely stay true to your style and personal preferences, there are so many more directions you could go instead of painting the interior of your home white or a neutral shade. While lighter colours are a safe choice and can make a space feel bigger and brighter, choosing a darker color may be the new way to go.
If you're still on the fence about darkening the walls of your home, take a closer look at our pros and cons list to help you make a decision that is right for you:
PROS
Creates a Warm and Cozy Atmosphere: Even if you are working with a small room, a dark paint color can make it feel extra warm and cozy. Using a darker color in a smaller space also shows that you are not afraid to make a bold statement.
Easier to Maintain: If you have pets or small children, darker walls will be much more forgiving. After all, dirt or other imperfections won't stand out as much on a dark wall like they would on a white or light colored one.

Makes Art and Furniture Stand-Out: A dark backdrop can help you highlight your art, photographs, and any other decorative items you want to draw the eye to. If you have a lot of stuff in your room and want to showcase your things, you may want to consider choosing a dark color here.
CONS
Reduces Light and Space: If you are painting your study a dark color, you may need to depend on artificial light more than you would if you painted the room a light color. This is especially true in the evenings, so a darker shade may be better utilized in a room you intend to relax in. A dark color is also likely to make the room feel much smaller than it is.

Makes Change More Challenging: If you decide to change the paint color down the line, it may be more challenging to do with the darker base coat underneath. Painting over it will require at least two coats of white primer before you can apply your new color.

Impacts Re-Sale Value: Chances are, the majority of people who walk through your home do not have the same confidence in their décor choices. Potential buyers are often looking for brighter and lighter spaces, so a dark color could prove to be a distraction.
At Mastercraft Painting & Finishes, we offer a variety of residential and commercial painting and refinishing services, carried out by our team of professional contractors. If you are still trying to determine a suitable color to paint your home, we can provide color consultations, in addition to handling any and all preparations before paint is applied to the walls. We have designed our services to ensure your painting project goes smoothly and meets your expectations, so you can enjoy the best painting experience possible. Our crew is also equipped with the latest painting and restoration equipment to help homeowners tackle even the most complicated projects with ease and confidence.
If you want to have your home or office painted, count on our team of professional painters. We will only consider a job done when we secure your complete satisfaction. Contact Mastercraft Painting & Finishes online or call 267-496-5307 for a free estimate.