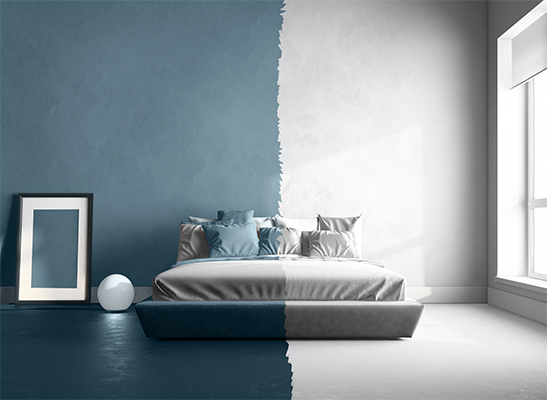 Find Custom Interior Painting and Refinishing Solutions Delivered by Your Professional Painters in Philadelphia
The bedroom is one of the most important rooms in your home. Bedrooms allow each family member to put their own unique stamp on the house and as adults, it's important to make decorating decisions based on how we want a particular space to make us feel. Instead of the bright colors you may have been more drawn to as a child, these days you may want your bedroom paint color to help you feel more relaxed. After all, the outside world can be an overwhelming place to be right now, so it's important to have a tranquil space that you can wake up and go to sleep in.
Popular Colors for the Bedroom
One of the most important decisions you'll have to make when it comes to achieving the bedroom of your dreams is choosing the right paint color. Ultimately, certain colors can affect behavior and impact important things like sleep. Let's take a closer look at the trending paint colors for bedrooms.
White: While you may not think of white as a soft or relaxing color, it is extremely versatile and is a perfect choice for the bedroom. It can offer a sense of freshness and make your space feel open and airy. If you have a colorful accent piece or want to hang an elaborate piece of artwork, white will complement your personal style and provide the right balance.

Gray: Soft gray is a trending bedroom color thanks to being an extremely calming color. Belonging to the neutral color family, gray can encourage feelings of relaxation and provides a good background that allows you to focus on your décor rather than your walls. If you desire a cooler gray, a blue gray bedroom may be the right choice for you.

Blue: One of the most popular paint colors for the bedroom is blue. It is recognized as one of the most relaxing colors on the spectrum and a cool pale blue may be just the color your bedroom needs. Choosing darker shades of blue can help you enhance the other features of your bedroom and make the space feel warm and cozy.

Green: Pastel green is very relaxing and suits a bedroom that is country themed or one that features floral print. It is also an ideal choice for more traditionally styled bedrooms and provides a good contrast to show off the other elements of your room. If you want to opt for a deeper shade of green, it can still be bright and calming.
No matter what color you choose for your bedroom, it's important to stay true to your own personal taste and remember that lighter colors will make your space look larger while darker colors will make your space feel smaller. At Mastercraft Painting & Finishes, we are committed to helping homeowners in Philadelphia and the surrounding area with making changes to your bedroom, in addition to other interior spaces. We offer high-quality custom interior painting and refinishing services to ensure you get the end result that you and your home deserve.
Whether you want a bedroom that feels calm and tranquil or want your space to feel bright and energetic, the professionals at Mastercraft Painting and Finishes can help you realize your unique vision. Call 267-496-5307 or contact us online to get a free estimate for your interior painting and refinishing requirements.