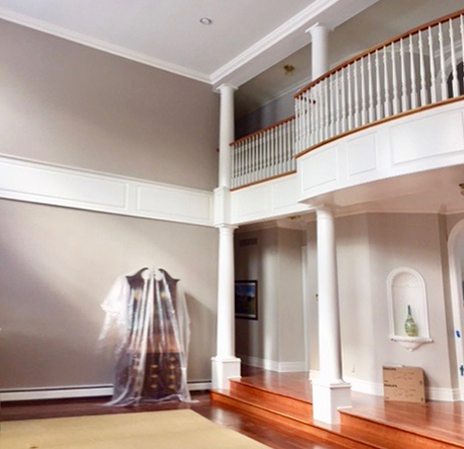 A Step-by-Step Guide from Your Trusted Professional Painters in Philadelphia
Staining woodworking projects can be a fun and simple task if you take the time to prepare wood surfaces the right way. For instance, some types of wood such as cherry, pine and birch can get splotchy when stain is applied to them, making it crucial to use a sealer before staining. If it is done correctly, adding stain to wood can change the color to better match the other wood tones in your home and highlight its beautiful grain patterns. For professional and cost-effective refinishing and restoration services, the experts at Mastercraft Painting & Finishes have you covered.
How to Master the Proper Wood Staining Technique
When it comes to wood staining, the key to success is not to rush the process. Finishing a piece of furniture will take a little extra time in order to achieve the results you're after but the experience is worth it. Master the proper wood staining technique by following these important steps:
Choose a Stain: Stains can be oil, water or gel based and it is important to understand the difference in order to choose the correct one for your project.
Oil Stain: Oil based stains are usually the most popular choice as they are easiest to apply and will absorb deep into the wood to give it depth and a nice, rich colour.
Water Stain: For an environmentally-friendly option, you may want to select a water based stain. These stains are easy to clean and can also provide added resistance to mold and mildew. While they may not result in the same deep colours as oil based stains, they are able to keep their original colour for a long period of time.
Gel Stain: For wood that is more challenging to stain, opt for a gel based stain. These stains will sit on top of the wood surface and are an ideal choice for more challenging wood surfaces.
Prepare the Area: Make sure that the area in which you will be wood staining is protected, by laying down a drop cloth. Stain will leave a permanent discoloration to anything it touches so it's important to take the right precautions.
Sand and Condition: The best way to prepare your wood surface for staining is to sand it down in the direction of the grain. The more you sand, the more stain will absorb, providing you with a deeper color. After sanding, dampen a rag to wipe away any sawdust for the perfectly smooth, even surface. If need be, now is also the ideal time to fill in any imperfections and brush a thin layer of conditioner over the surface.
Stain the Wood: Before you start staining, use a scrap piece of wood to see how your stain will turn out. If you're ready to move onto your project, thoroughly stir the wood stain before applying it. Using a damp rag, apply the stain in thin layers to slowly work towards your desired finish.
Apply a Sealant: While a topcoat is not always required, it is still a good idea to apply a sealant to protect the stained wood surface from wear and tear. Be prepared to wait a day or two before the topcoat sealer dries.
While wood staining can be tackled as a DIY project, if you want to save time, money, and ensure a flawless result, it's time to call on the experts. When you work with Mastercraft Painting & Finishes, you can feel confident that your home or place of business is in good hands. Our contractors are fully licensed, bonded and insured and we take every job seriously, no matter how big or small. If you are thinking about having something refinished, our team of experts will work tirelessly to guarantee your complete satisfaction. In addition to our painting and restoration services, we also offer other services including HVAC, masonry, kitchen and bathroom renovations, and more, for residential and commercial clients in the Montgomery County, Bucks County, the Main Line and Center City Philadelphia areas.
For reliable, high-quality and affordable refinishing and repainting services, rely on the professionals at Mastercraft Painting and Finishes. Call 267-496-5307 or contact us online to get your free estimate.