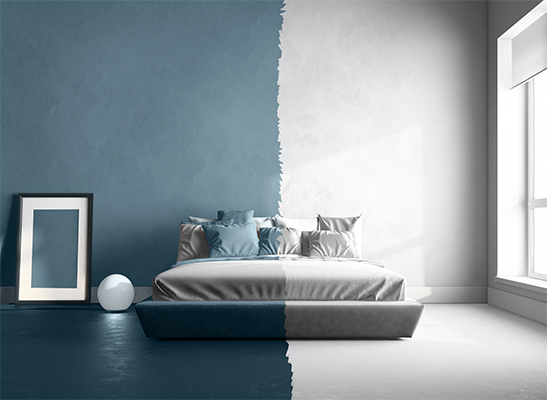 How will You Choose?
Although often overlooked, paint finish is an extremely critical consideration in your home painting project. Due to its impact on the durability, washability, and vibrancy of the paint, the finishes you choose can significantly impact the look and functionality of your rooms.
The professional painters at Mastercraft Painting and Finishes explain why finishes matter, and how you can make the right choice.
Create the Perfect Pairings between Your Rooms and Paint Finishes
While paint companies may use a variety of names for the finishes, broadly, there are four different types: flat, matte, shiny, and super glossy. Typically, shinier the finish, greater the light reflection and durability, whereas, flatter the finish, better its chances of hiding flaws in the walls. Before purchasing your favorite paint color, ask yourself what is the ideal outcome that you seek for each space. For example:
Do you need to conceal surface bumps without spending time or effort in sanding or refinishing?

Looking to enhance the sense of space in a room that lacks abundant natural light?

Need to highlight decorative trims or vintage wood work?

Require a low-maintenance, stain-proof finish that allows you to simply wash or wipe down the walls?
Pairing the desired painting outcomes with the right paint finishes will help you:
Beautify your space and improve its aesthetic appeal

Keep your walls or painted surfaces clean and free of dust or stains

Increase the life of the paint
Depending on the type of space you are painting, here are the paint finishes to consider:
Flat Finish: In case of cracks, uneven surfaces or other scuffs and troughs in your wall, flat finishes are an excellent option to conceal imperfections. Use flat finishes for large areas, such as the ceilings, or for low-traffic spaces, such as the formal living or dining room, closets, study, or even your master bedroom. Keep in mind that this is the least shiny finish, and it does not clean as well as some of the other finishes.
Satin or Eggshell Finish: If your walls have some minor cracks or flaws, hide them with an eggshell, or satin finish paint. This low-luster, attractive and practical finish is not scrubbable, but it resists the accumulation of dirt, and allows you to wipe off stains easily. Hence, eggshell or satin finish is most effective in high-traffic areas, such as your family room, hallway, foyer, eat-in kitchen, or a children's bedroom or playroom.
Semi-Gloss Finish: Semi-gloss finishes offer a slight sheen that is ideal for highlighting the railings, trims, kitchen cabinets, doors, window frames, and other such areas. Not only is this finish resistant to stains or mildew, but it is also extremely durable and washable, making it ideal for heavily used spaces, such as your kitchen and bathrooms. Due to its reflective properties, the semi-gloss finish is also very useful for smaller rooms where you need to create an illusion of space.
High-Gloss Finish: The shiniest of all finishes, high-gloss is highly reflective, and does not forgive imperfections. Use this paint finish only on walls that have smooth, flawless surfaces, or after sanding down the surface, and filling up any holes and dents. This polished, shiny finish is suitable for highlighting doors, trims, and architectural details. It can also work well in areas that experience high wear and tear, including kitchens and bathrooms.
For home painting projects, selecting paint colors and finishes may not be enough for completing your project safely and successfully. You need an understanding of painting techniques, and the necessary tools and equipment to carry out the job. Moreover, you need immense patience to get through the pre-painting prep, and post-painting mess. Instead of adopting a D-I-Y approach, consider outsourcing your home painting projects to the knowledgeable and experienced painters at Mastercraft Painting and Finishes. Our licensed, safety trained, fully insured crew will skillfully paint your home interiors, ensuring smooth, quality finishes, and an excellent post-job cleanup.
For affordable, efficient, and professional quality home interiors painting, hire the experts at Mastercraft Painting and Finishes. Call us at 267-496-5307 or contact us online for a free estimate.