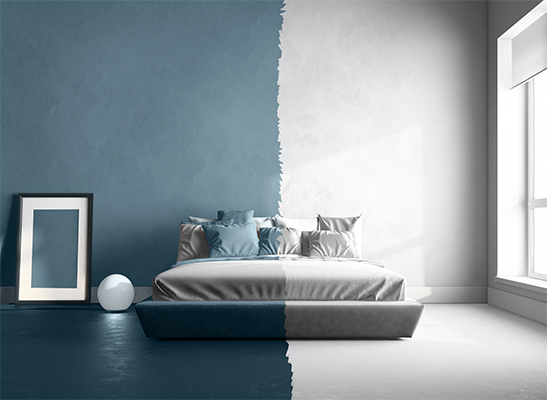 Design Ideas from Your Professional Painters in Philadelphia
When introduced in the early 2000s, accent walls usually meant a pop of color on one of the walls of any room in the home. Over time, interior designers have used accent walls for more meaningful purposes, such as:
Creating a focal point
Personalizing the space
Highlighting an architectural feature or décor element
Bringing interest to an overlooked or transition space
Adding contrast to a basic room
Defining a purpose for a portion of the space without putting up additional walls
Accent walls are a fun option for creating an element of intrigue, or adding a unique dimension to your home interiors. No matter what color you choose, or which wall you decide to accentuate, when used smartly and thoughtfully, accent walls can help you achieve stunning transformations.
Top Trends in Accent Wall Designs
There is more to accent walls than meets the eye. While paints in contrasting or complementary shades are one of the commonly used options to accentuate walls, you can choose from a number of other unconventional materials as well. Here are the top five design ideas for creating accent walls.
Paints: A stark white or black wall, a pop of a bright, bold shade, a subtle contrasting shade, or textures achieved through painting techniques, such as sponging, stenciling or rag rolling; there are endless ways to use paint for an accent wall.

Instead of painting an entire wall in a different shade, you can paint just the trims, casings, or moldings in a different color to make the rest of the wall stand out.

Wood or Wood Paneling: Make a statement by using wood paneling on one of the walls. The types, shades, and graining of natural wood offer a huge potential for creating looks that are completely unique to your home. You can also use wood to create a patterned paneling design and paint it the same color as the rest of the walls for a subtle, yet stunning accent wall.
Mirrors: Modernize your room and add a touch of instant glamor by using mirrors to accentuate a wall. Besides making the space look larger, the reflection of the furniture or other décor items in the mirror will give your space an entirely new dimension.
Natural Stone or Backsplash: Whether you prefer granite, marble, soapstone, or some other natural stone, use your favorite surface materials on one of the walls to add elegance and sophistication to your space.

Why restrict the use of a backsplash to your kitchen or bathroom? Choose a distinctive tile or backsplash material and add it to an unexpected spot, such as around the hearth or another focal point in a room.
Wallpaper or Murals: Lend your rooms a unique personality by using wallpaper to accentuate a wall. Depending on the design or pattern you choose, wallpaper can add character, charm, elegance, glamor, sophistication, quirkiness or any other quality that you wish to achieve in your space. If your budget permits, consider dressing up the wall with a custom-designed wallpaper or mural that complements your personality, or your home's specific style and décor.
At Mastercraft Painting & Finishes, we are passionate about helping you achieve extraordinary makeovers for your home interiors. Whether you plan to repaint a single room or your entire home, our skilled and experienced crew would be happy to help you through the entire process of dressing up your walls. From the colors and finishes, to painting techniques and accent wall ideas, we can advise, design, and deliver on all aspects of the project to increase the value, appeal and function of your home.
Our professional painters are licensed, safety trained and fully-insured, and have access to the latest products, techniques and equipment to complete the job safely and on-time. Expect nothing less than smooth, high quality finishes and a thorough post job clean-up.
For creative ideas and fabulous home transformations, hire the professionals at Mastercraft Painting and Finishes. Call 267-496-5307 or contact us online to get a free estimate for your interior painting and refinishing requirements.